Image
SF is making real progress against climate change.
This dashboard provides an easy way to track the city's efforts toward achieving net-zero emissions by the year 2040.
Image
The SF Climate Action Plan is a comprehensive program designed to activate all San Franciscans to fight climate change while supporting equity, resilience, economic opportunity, and public health.
Read the full SF Climate Action Plan
Climate Action Plan Sectors
The Plan is organized into these key sectors.
Recent Achievements
Building Operations
Completed: January 2021
Natural Gas Ban in New Construction
Enacted the All-Electric New Construction ordinance that went into effect in 2021 to require newly constructed buildings to be energy efficient and all-electric with no on-site carbon emissions. The ordinance is implemented by SF Department of Building Inspections (DBI).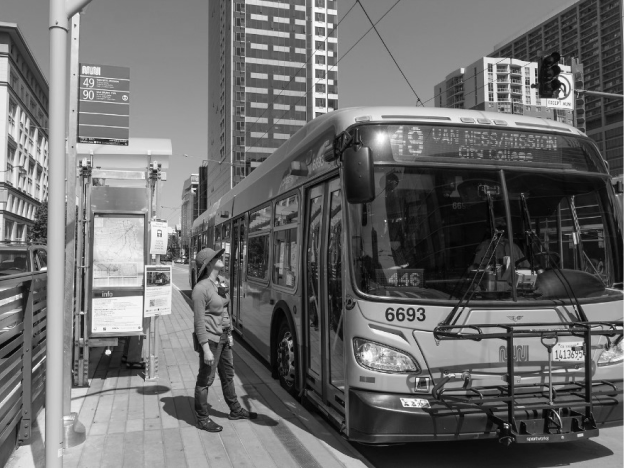 Transportation and Land Use
Completed: April 2022
Implement recommendations from ConnectSF and MuniForward plans by investing in transit-only lanes, signal management, queue-jump lanes and other transit priority treatments.
In April 2022, the City completed the Van Ness Improvement Project and opened the city's first Bus Rapid Transit (BRT) system, which is expected to cut travel times for Muni and Golden Gate Transit by ⅓. 
 
Responsible Production & Consumption
In Progress
Continue implementing and scale the Kitchen Zero SF pilot program, which reduces food waste by tracking over-purchasing by food generators and redirects otherwise wasted food to communities in need.

SFE completed phase 1 of Cal Recycle grant, resulting in the recovery of 2,899,107 pounds of food which was converted into 2,665,112 meals and 620 tons of CO2 eliminated. 
 
Implementation Snapshot
The SF Climate Action Plan describes the actions the City and community can take together to tackle the climate crisis. These charts provide an overview of the progress made towards implementation. 
Latest Indicators
An at-a-glance overview of the City's progress toward meeting the Climate Action Plan's goals.
Meeting the goals of this sector will include continued delivery of renewable electricity via Hetch Hetchy and the CleanPowerSF program, improved grid readiness and resilience, and the creation of local clean energy jobs.
Percent of electricity used in SF that is renewable
Strategy: Supply 100% renewable energy to residents and businesses
Read more
Annual spend on local distributed energy resources (DER) projects and customer programs
Strategy: Invest in local renewable energy projects and energy resilience projects
Read more
Number of eligible customers on low-income electricity rate plans
Strategy: Design and develop the reliable and flexible grid of the future
Read more
The focus of this sector is to electrify new and existing buildings, provide targeted support for low-income renters and owners, and expand work opportunities for disadvantaged workers.
Image
Number of exemptions granted for all-electric ordinance
Strategy: Eliminate fossil fuel use in new construction.
Read more
Number of Bay Area Regional Energy Network (BayREN) electrification projects in single-family and multifamily properties in Environmental Justice (EJ) communities, out of total
Strategy: Eliminate fossil fuel use in existing buildings by tailoring solutions to different building ownership, systems, and use types.
Read more
Transportation and Land Use
The focus of this sector is to shift trips away from cars towards low-carbon modes through infrastructure improvements, pricing mechanisms, smart land use, and electric vehicle adoption.
Muni average annual weekday ridership
Strategy: Build a fast and reliable transit system that will be everyone's preferred way to get around.
Read more
Percent of on-street parking that is metered
Strategy: Manage parking resources more efficiently.
Read more
Number of housing units within a quarter mile of Rapid Network Lines*
Strategy: Promote job growth, housing, and other development along transit corridors.
Read more
Number of housing units within a quarter mile of commercial corridors*
Strategy: Strengthen and reconnect communities by increasing density, diversity of land uses, and location efficiency.
Read more
Percent of zero-emission vehicles (ZEV) out of new car sales in SF
Strategy: Where motor vehicle use or travel is necessary, accelerate the adoption of zero-emissions vehicles (ZEVs) and other electric mobility options.
Read more
The key focus area for this sector is to meet regional housing goals by accelerating the development of new affordable units and preservation projects and ensure equitable access for Black, Indigenous and people of color (BIPOC) and vulnerable populations.

Total number of affordable and market-rate units produced per year
Strategy: Anchor and advance the return of families of color
Read more
Number of affordable housing units preserved and rehabilitated each year
Strategy: Protect vulnerable populations
Read more
Total number of affordable and market-rate unit production per year
Strategy: Meet the needs of people and families with high housing cost burdens.
Read more
Responsible Production and Consumption
Primary areas of focus for this sector include addressing embodied carbon in buildings and construction, lifecycle emissions from the consumption of goods and services, food system impacts, and air travel.
Tons of rescued building materials re-used
Strategy: Achieve total carbon balance across the buildings and infrastructure sectors.
Read more
Weight of food recovered through SB 1383 program enforcement
Strategy: Reduce the carbon footprint of the food system by reducing waste, promoting climate friendly diets, and getting excess food to communities in need.
Read more
Tons of trash disposed
Strategy: Promote reduction, reuse, repair, and recovery of goods and materials.
Read more
The key areas of focus in the sector are to protect and expand the use of natural systems – street trees, parks, open spaces, and range lands – to support carbon sequestration, biodiversity, and resilience.
Number of new trees planted and maintained
Strategy: Maximize trees throughout the public realm.
Read more
The focus of this sector is to continue conservation efforts, diversify water supplies, and improve the use of new water sources to address challenges brought on by climate change, drought, wildfires, and regulatory changes.
Annual growth in deployment of innovative water projects
Strategy: Invest and implement innovative programs to reduce water use and develop new water supplies
Read more
Annual quantity of water re-use and recycling
Strategy: Invest and implement supply augmentation programs
Read more